Dear customers,
Following a government decision, security measures are to be applied to covid-19.
We regret to announce that the Hotel de la Sûre, the Comte Godefroy restaurant and the Rock Spa Wellness will be closed until 29.03.2020 or further notice.
We suggest that you postpone your stay with us at another next date.
We are always accessible by phone on 00352 83 91 10
or by e-mail: info@hotel-de-la-sure.lu
We hope that this period will be resolved as soon as possible for the benefit of all of us.
Take care of yourself !!!
Sylvia, Bianca, Ronald and the whole team.
Food allergy?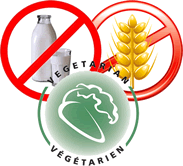 Food allergy? You follow a special diet?

For people who suffer from a food allergy (eg. Allergies to lactose or gluten), for people with diabetes, for those who need to eat without salt, for vegetarians etc ....
We offer dishes specially adapted so that you too can safely enjoy your vacation and the cuisine in our hotel!
TOP