ATTENTION the hotel and the Rock SPA will be closed from 13/12 to 27/01 included.
Food allergy?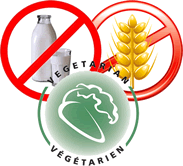 Food allergy? You follow a special diet?

For people who suffer from a food allergy (eg. Allergies to lactose or gluten), for people with diabetes, for those who need to eat without salt, for vegetarians etc ....
We offer dishes specially adapted so that you too can safely enjoy your vacation and the cuisine in our hotel!
TOP